Purchasing a mountain home is most likely the largest investment you will make. Let us help you.
Buy With Scott and Anne Lindblom
Finding a mountain home to buy in Summit or Park County is a fun and exciting experience; Scott and Anne's family have enjoyed having a second home in Breckenridge for over 20 years prior to becoming a full-time residents. We spent many years owning a condominium before building a new home in the Highlands near the golf course in Breckenridge. Scott and Anne understand what Summit and Park County have to offer and their outdoor experiences skiing, hiking, biking and fly-fishing can help you find your own way to live the mountain lifestyle.
Are you ready to buy your Summit or Park County Area Mountain Home?
Buying a home is a complicated process and it can feel overwhelming. This is why we have created a Buyer's Guide & Checklist so you can know what to expect and be prepared.
We are always there to help our client's and making the buying process as smooth and seamless as possible. At the same time it can be very useful for you to be informed of exactly what all the steps are so you can anticipate them.
Our goal is to serve our clients at the highest level so they can make informed decisions about what is best for them!
Whether you are looking to buy a home right now or it's something you've just started considering for the future, it's nice to know what to expect and to be prepared!
What Scott and Anne Lindblom's Summit and Park County Area Buyer's Guide & Checklist will provide for you:
The first steps regarding finances and loans
How to choose the kind of home you want
Searching for homes online and interviewing real estate agents
The steps of making an offer and how to handle an inspection and appraisal
What to expect at closing
A Home Search Worksheet for you to use as a tool and resource for finding your perfect home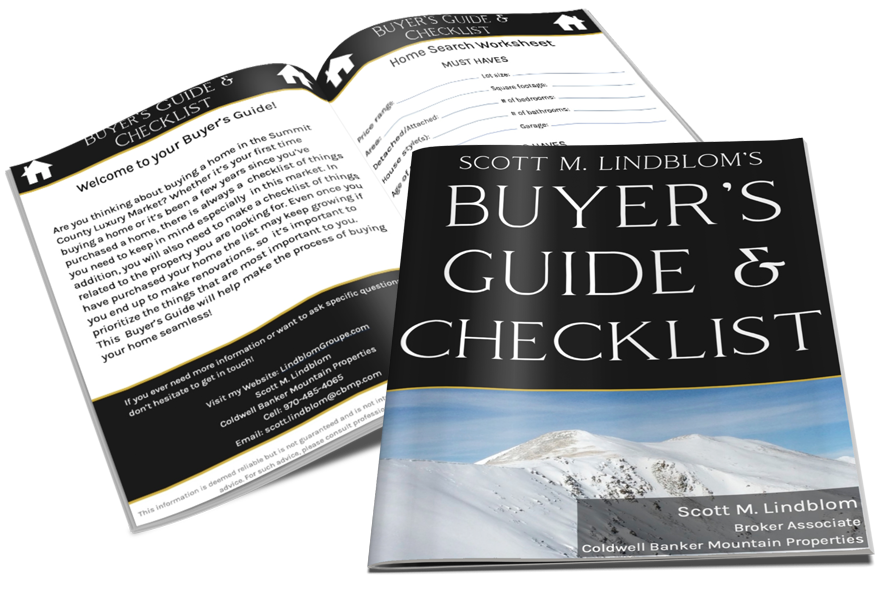 Want to Download Our Buyer's Guide & Checklist?
If you fill out your details below we will send the full 16-page Buyer's Guide and Checklist to your inbox instantly!