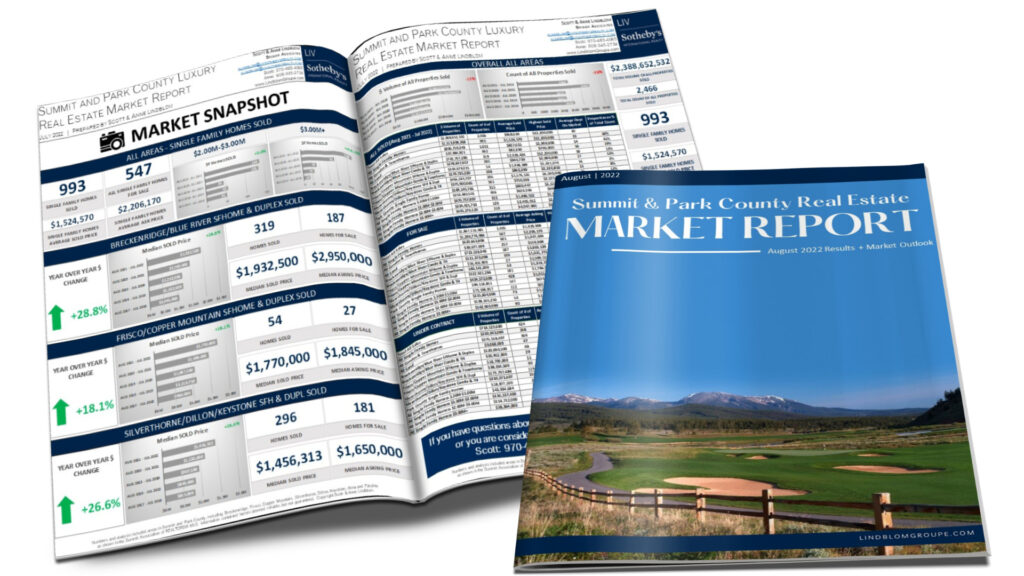 Welcome to our August 2022 Summit and Park County Real Estate Market Report!
We hope that you have had a wonderful summer. Fall has arrived in the mountains with cooler temperatures and the aspen trees are beginning to show their stunning golden leaves. The ski resorts have also started testing their snowmaking equipment to ensure its ready for the new ski season.
The Summit County Parade of Homes is being held next weekend which is always a great time to see the fine craftsmanship of our local builders. It is well worth the trip to Summit County if you have the time to attend this event.
In the local market, inventory is growing, some price reductions are occurring on active properties and interest rates continue to vary. Overall, sales are down but this is likely due to the high volume of homes purchased during Covid and these new homeowners are just starting to enjoy having a home in the mountains. As a whole, the market has slowed due to some buyer uncertainty. However, we still have buyers evaluating the market and being strategic about buying a mountain home.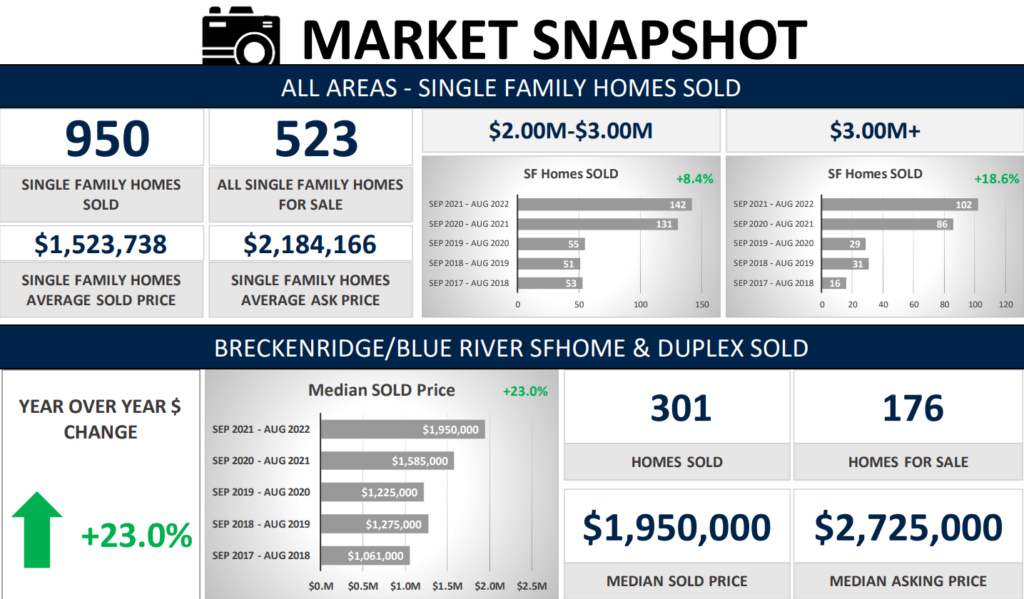 The Summit and Park County real estate market for July 2022 vs July 2021 shows the following trends.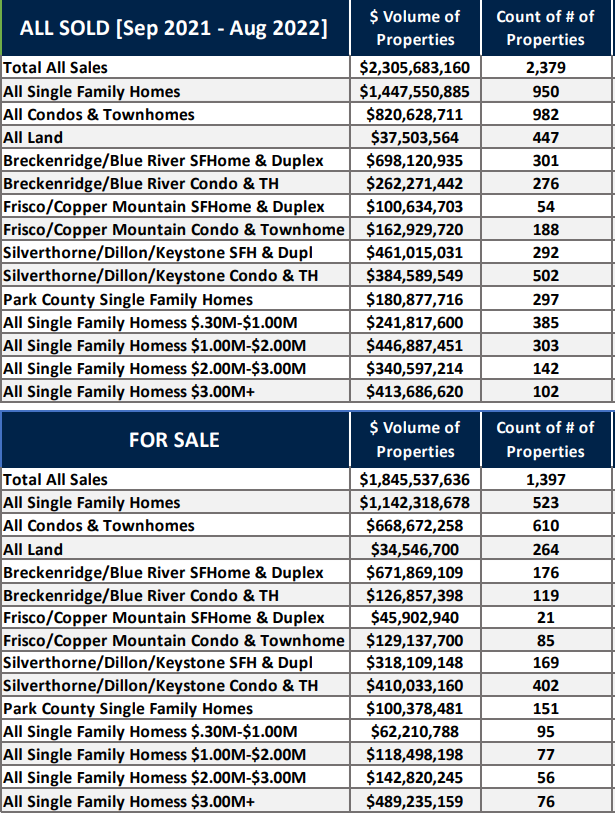 Summit County Single Family Homes:
Sold Listings: -32.4%
Average Days on Market: -9.1%
New Listings: -25.0%
Median Sales Price: -1.9%
Inventory of Homes: +93.1%
Summit County Condominium/Townhomes:
Sold Listings: -28.7%
Average Days on Market: -27.3%
New Listings: -17.0%
Median Sales Price: +9.1%
Inventory of Homes: +29.8%
Park County Single Family Homes:
Sold Listings: -48.6%
Average Days on Market: +218.2%
New Listings: -39.3%
Median Sales Price: +20.5%
Inventory of Homes: +40.7%
How can we help you with your real estate needs?
This is only a small portion of our full Summit and Park County Area Real Estate Market Report. The level of detail in the full report represents what you can expect from us as your Real Estate Agents. I hope we can provide the same amount of expertise and insight for you when you are looking to buy or sell in the Breckenridge area.
We strive to provide Superior Service and exceed client expectations. We would appreciate the opportunity to earn your business – or that of a colleague you think we could help.
Every month we produce this monthly report to provide you with a high-level overview by looking at the patterns and trends. We hope to help you make sense of the numbers so you can make an informed decision. If you see a segment of the market that you would like additional help with understanding please contact us. If you desire a specific Comparative Market Analysis report that we routinely prepare for our clients, please contact us.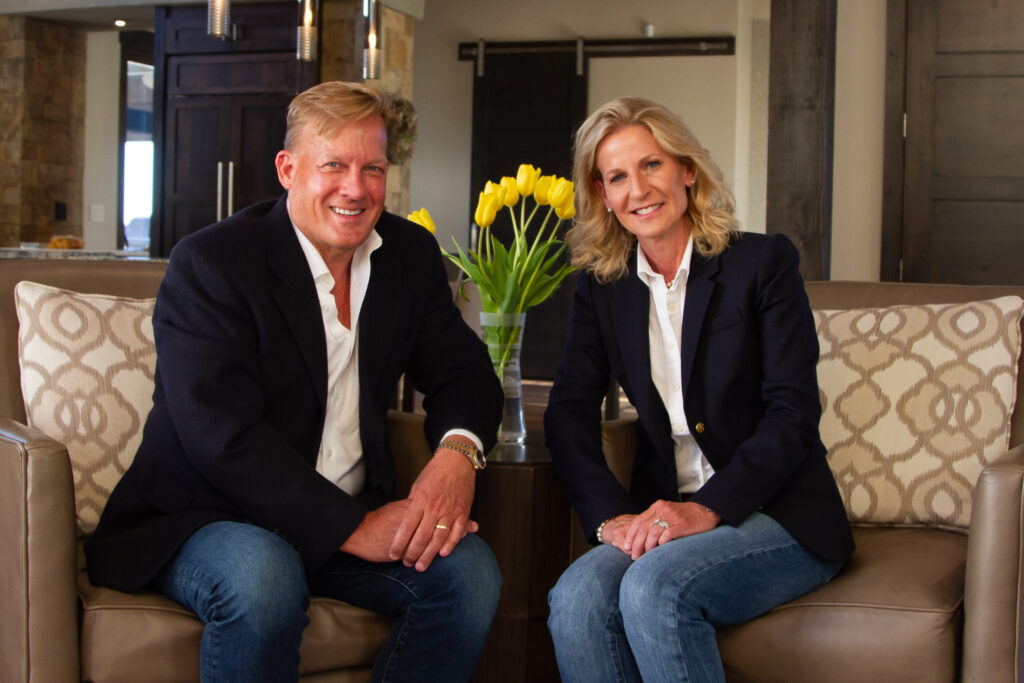 Best Regards,
Scott & Anne Lindblom
Broker Associates
LIV Sotheby's International Realty
[email protected]
[email protected]
Scott: 970-485-4065
Anne: 608-345-2734
www.LindblomGroupe.com